An opportunity to spend and enhance the bonus at the shopping centers.
Following the issuance of ordinance N ° 658 of the Council of Ministers, which provides for the distribution of shopping vouchers to the citizens most affected by the emergency, this initiative aims to support the individual municipalities in the provision of the shopping vouchers described by the same ordinance and at the same time enhance them in future months.
all
this to make the most needy Italian citizens feel their closeness in this difficult moment, and the same platform and operating methods, described below, can also be used for future government initiatives and / or individual municipalities.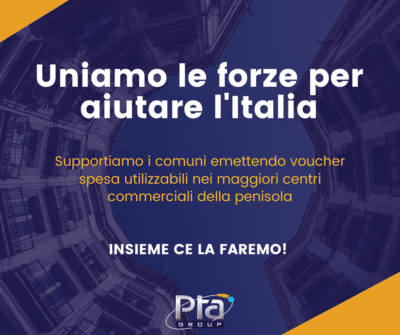 AN ADDITIONAL CHANNEL TO SPEND THE BONUS IN ITALY?
That's how.
By making available, free of charge, its staff and the technological tools to provide all Italy shopping vouchers (Gift Cards) of the most important shopping centers of our peninsula.
In addition, for the duration of the initiative, the same support will be offered to shopping centers through the implementation of the click&collect software activated for free.
How it works?
Through the digital InfoPADs managed by PTA Group and already installed in the Shopping Centers, it will be possible to convert the shopping vouchers provided to Municipalities, and consequently to citizens, into cards that can be used immediately after collection in the hypermarket and in essential services in compliance with the latest DPCM.
There are more than 70 shopping centers that adopt PTA Group technology and can therefore join the proposed initiative.
PTA Group and Dedem.

Together.
The initiative is promoted by PTA Group, the Italian leader in the supply of Gift Cards for shopping centers and by Dedem, which has always been close to municipalities and citizens' needs with passport photos and services for registry offices and in particular for the CIE.
PTA Group and Dedem are partners and members of the Board of Directors of the National Council of Shopping Centers, a transversal Association that brings together in a single body all the private and public entities connected, in various ways, to the industry of Shopping Centers, Shopping Parks and Factory Outlet.